It's that time of year when music teachers are prepping for winter concerts, programs, and other wintery events. Some of you have probably led early morning choir practices and after-school program rehearsals for several weeks now. In which case, you're probably looking forward to the winter break more than your students.
So, I've decided to curate lesson ideas from around the music teacher sphere, both free and paid. Think of it as a gift guide in reverse. May it'll help ease you into that long-awaited winter break!
This is a sampler from my shop featuring six video links with accompanying worksheets. Videos are appropriate for a wide range of grade levels. They aren't holiday-specific and can be used at any time of the year. This would be great for a non-music substitute!
No Prep Activities for Music Sampler
Free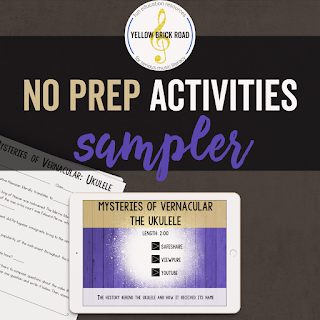 An awesome blog post from my friend Elizabeth over at Organized Chaos. She details several lesson ideas for a wide range of grade levels. She includes great video suggestions, easy rhythm instrument activities, and fun movement ideas.
My Favorite Nutcracker Music Lesson Ideas
Free
Another great blog post from my friend Aileen over at Mrs. Miracle's Music Room. She features five free sub plan ideas that require little to no prep. I could definitely see the Rhythm Trainer website coming in handy throughout the year!
Five Easy Sub Plans for the Music Classroom
Free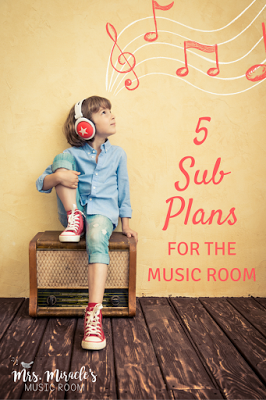 Cori Bloom has a variety of self evaluation worksheets available in her TPT store. These would be perfect for the week after a performance. That way you can give your feet a bit of a rest as students watch their performance and reflect. I featured her Christmas version below, but she has a variety from which to choose in her shop.
Self Evaluation Worksheets
Paid
This is the full-size version of my sampler from earlier. I included links to over 60 videos in the categories of Pitch and Rhythm, Tempo, Band and Choir, Dance and Singalong, Miscellaneous, and Just-For-Fun. It includes movement videos as well for variety.
No Prep Activities for Elementary Music
Paid
If you haven't already, be sure to
sign up for my newsletter
, where you'll get exclusive content every month. If you have any questions or suggestions for future newsletters, feel free to
contact me
!