What it means to be a music teacher
As a former music teacher, I know it's hard to quantify the mental and emotional energy that goes into just one hour of teaching music. All of the preparation and hard work mixed in with joyful music making is bittersweet. I'm betting you can relate. In fact, most of the music teachers I've met can be described as:
generous
creative
resourceful
overworked
stressed
Most music teachers I know are expected to fill multiple roles; music program director, sound engineer, accountant, accompanist, instrument repair technician, etc. Working to the point of burn-out is easy to do in a society that only asks for more, more, more…
I started from scratch so that you don't have to
My first few years of teaching were a whirlwind of sleepless nights and anxiety. I was left with a music program that had no curriculum or long-term planning of any kind. The "provided curriculum" was literally a copy of the state standards. So I had to start from scratch to develop my own, which led me to earning a master's degree in curriculum and instruction. Armed with this knowledge and several years of experience, I realized that I wanted to help other teachers avoid starting from scratch.
Mostly, I wanted other music teachers to know that they weren't alone. I could help.
So, I quit teaching and started my own business to do just that. Being a full-time creator is the perfect fit for my introverted personality. I get to chat with music teachers all over the world, share my resources, and research music education topics from the solitude of my home office. Best of all, I get to read messages from teachers about how their students are begging to play the Musical Mansion or how a teacher used the Basics Series as a foundation for their distance learning curriculum. My vocation allows me to do what you're all doing right now, making a difference in children's lives through music.
Meanwhile, in my personal life
When I'm not creating resources or sharing ideas, I'm spending time with my husband, Brandon. We love to travel, have deep discussions, and stream our favorite shows (or animes). Two years ago, we adopted a cat from the shelter, which we lovingly named Dr. Watson. You can observe all his cuteness on Instagram HERE.
Aside from singing and playing several instruments, my talents include:
spotting small objects on the ground
finding new ways to drink coffee and chai
knitting things halfway
being an excellent listener
meeting new friends over a shared love of Dr. Who, Star Trek, social justice, food, anime, and other things I love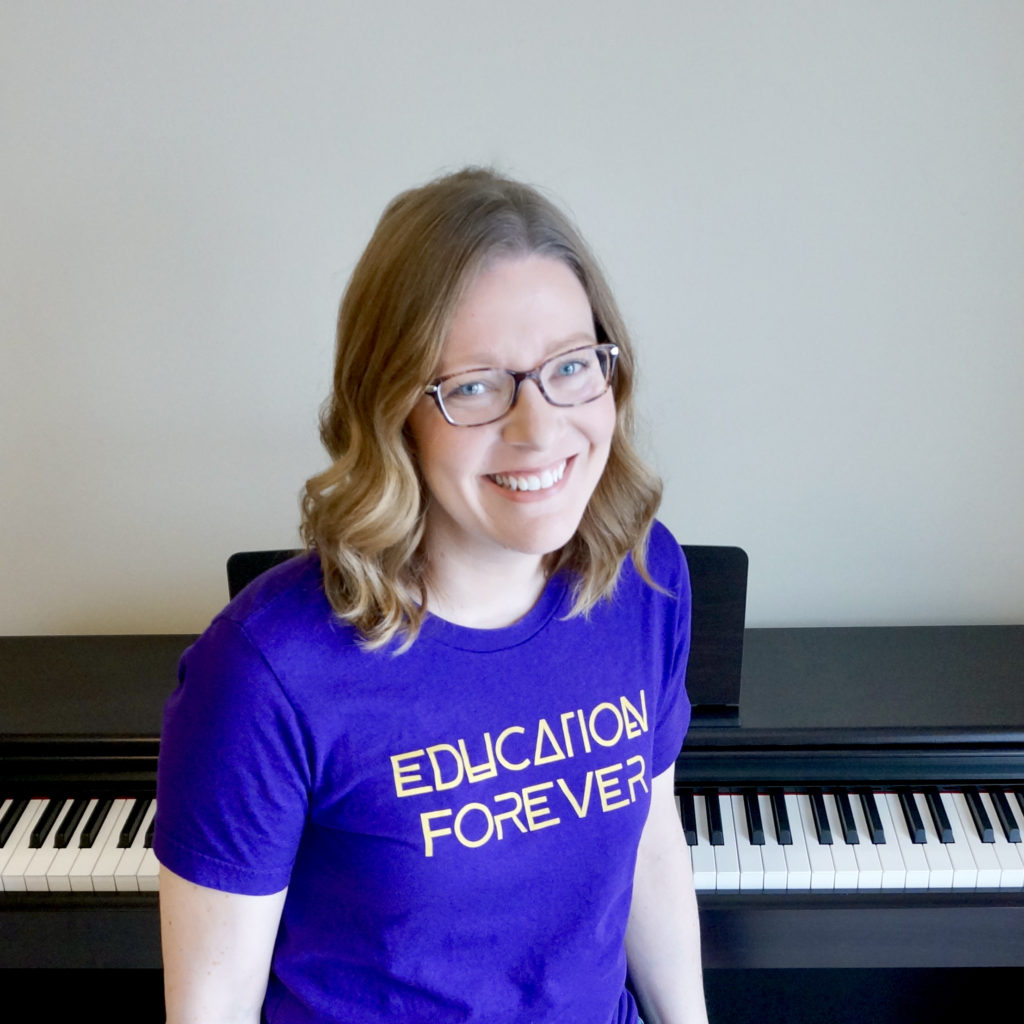 A LASTING CONNECTION
I'm a strong supporter of professional collaboration, which is why I'm a proud member of The National Association for Music Education, The Indiana Music Education Association, The MusicEd Blogs Community, and The Music Crew. I'm also active on Instagram, where I share parts of my world beyond music education. If you'd like to hear more from me, be sure to sign up for my monthly newsletter HERE.
SUPPORT MY WORK
If you would like to support my work, including the free digital and printable resources I share here on my blog, please consider buying me a coffee!