One of the best compliments a music teacher can receive is when their students play a music game on the playground. And Al Citron is the perfect song for making that happen. It has a catchy melody and simple rhythms. Plus, there's the added intrigue of the song being about a sweet treat. What's not to love about that?!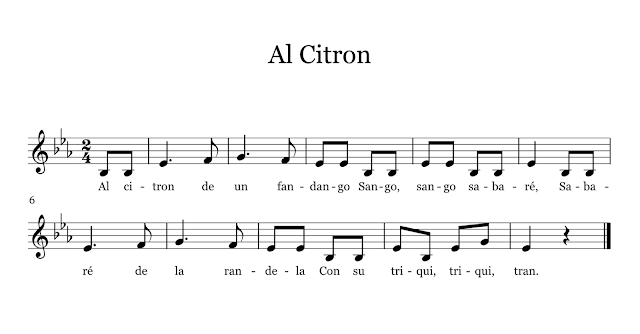 You can listen to the recording below to help get a feel for the song. You might play this for your students as an introduction before discussing the context of the song.
Mama Lisa
provides excellent information on the meaning of the song, as well as the English translation. I would highly recommend reading
her post on the song
before presenting it to your class.
CIRCLE GAME & STRONG BEAT
The circle game is what makes this song excellent for teaching
strong versus weak beat
. As you can see in the video below, students are picking up the object on the weak beat and putting it down on the strong beat. This will help solidify the concept since students are moving to each beat, but the loud sound is coming from the strong beat.
Now imagine playing this game with empty pop cans (as shown in the video below). I especially love the sound it makes against the concrete. I have no doubt that elementary students would be thrilled to play the game this way.
This video also gives a better view of the back and forth action needed during the words "triqui, triqui".
ADDITIONAL RESOURCES
If you're looking for other ways to teach strong versus weak beat, you can click
HERE
to read about another circle game and song I've used to teach strong versus weak beat.
If you're looking for lots of ideas on teaching steady beat with movement, click
HERE
.
SUBSCRIBERS
If you're a newsletter subscriber, be on the lookout for an email coming your way next Friday. It'll have a free resource and practical tips for getting the new school year started off right. If you haven't signed up yet, you can do so
here
. It's easy, it's free, and I won't bombard you with unnecessary emails.