HABIT TO BREAK
This bad habit is one that I rarely hear discussed, though my dentist tells me I'm not alone. You see, I'm a cheek biter. It's a nervous habit that I share with my sister. It can be compared to fingernail biting, in that it's an unhealthy habit and equally difficult to break. And nothing makes me want to quit more than seeing a picture or video of myself mid-chew…it's not flattering. Also, it's a terrible way to treat my teeth and mouth.
I know it won't be easy, especially since it's a lifelong habit. It'll probably require some reminders from my husband, a nudge in the ribs (or two), and a lot of hard work. However, I'm confident that I can do it. Or at the very least, reduce the frequency.
Are there any other cheek biters out there? If so, do you have any tips on how I can successfully break this habit? I'd love to hear your ideas!
HABIT TO MAKE
I want to play music for my own personal enjoyment every day. I'm sure many of you can relate to this. You're surrounded by music all day, and you play instruments for your kids, but you rarely make time to play music purely for your own enjoyment. I'm reminded of this fact every time I dust off my guitar, piano, and other instrument cases. And yet, I derive such immense joy when I choose to play. You know the feeling.So, I'm going to do my best to make this a daily priority. I'm going to play and/or sing for my own enjoyment, even if I only have five minutes to spare. In fact, I think I'll take those five minutes right now…
Done √
Now I just need to do that every day for the next 10 weeks, and science says it's likely to become a habit.
JOIN THE CHALLENGE
Speaking of habits, I bet you all wish I'd start back on that habit of doing giveaways. Well, today's your lucky day! I'm teaming up with Elizabeth from Organized Chaos and Michelle from Music with Miss W for a giveaway. Each of us will be giving away a goody bag full of treats to help make your teacher heart happy.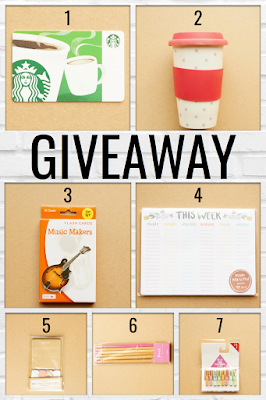 1. $10 Starbucks Gift Card 2. Ceramic Travel Mug 3. Instrument Flashcards 4. Weekly To Do Memo Pad
5. Sticky Note Pad & Page Flags 6. Day of the Week Pencils 7. Day of the Week Mini Clips
To enter the giveaway:
1. Comment on this post with one habit you'd like to make or break.
2. Enter your email address in the giveaway below so that I can notify you if you win!
If you aren't already, I'll be adding you to my mailing list for my newsletter so that you'll be sure to catch my next giveaway along with exclusive free downloads. Act quickly, we'll announce winners this Friday! Also, be sure to visit Elizabeth and Michelle's post (by clicking on the images below) to triple your chances of winning!