It's been five years since I've written about how to organize your computer desktop. Since then, a lot has changed in the world of computer desktop organization. There are new tools, such as the option of creating stacks using a Mac. This is what I use (and love). Windows 10 users can choose the personalization option to decide what folders they want to appear on startup. However, no matter the type of computer you use, music teachers have unique needs for their computer desktop.
In light of this, I decided to create some new desktop organizers. The columns are grouped by weekday. My thought was that you could place the resources you need in each column for easy access throughout the week. Your permanent folders that hold all of your digital resources can be arranged in the grey box at the bottom.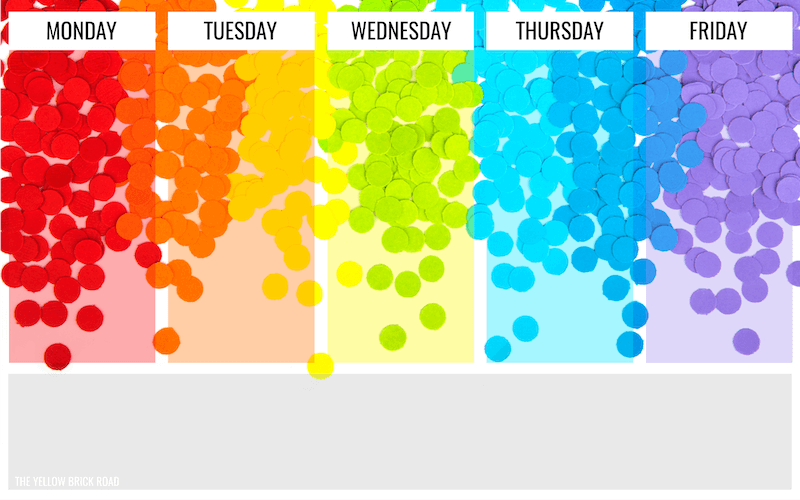 ADDITIONAL TIPS & TRICKS
Consider creating digital agendas for each day of the week and arranging them in each column. For me, I preferred a short list of each grade level and the main objectives for that day. Sometimes, that meant just writing down the name of the activity or song, because I knew from past experience what I would teach with it.
At the end of each week, return each file to its original place. Then, organize and arrange your files for the next week. If you have individual files without a home, create a new folder for them.
Did you know that you can customize the look of your folders? That's what I did in the image below. I changed the default blue folder into an image of my cat. This way you can find what you need at a glance, rather than trying to read the text beneath each folder.
Click HERE to learn how with a Mac. Click HERE to learn how with a PC. Click HERE to grab some free images for folders that I made in my last post on this topic.
If you know you have a sub coming on a specific day of the week, be sure to rename your folders so that they know it's for them. You can also include a digital copy of the necessary info they need for the day.
If your desktop has too many folders, try to create nesting folders. For example, I have a large folder titled "TpT", which houses more folders, such as my unfinished projects, resource images, and more. This way, I'm not cluttering my desktop with unfinished projects and images. They're all stored away in a folder inside a folder…inside a folder.
Give everything a home. If there's an individual file on your desktop that isn't part of next week's plans, make sure it goes back to the folder in which it belongs. If you don't have a place for it, that probably means you need a new folder.
Wondering what folders you might need? Here's what I have to give you an idea; Home, TpT, Server, Credits, Clipart, Budget, and Blog. And I have many more folders inside each of these. For example, my curriculum resources are housed in my "Blog" folder, while my resource previews are housed in my "TpT" folder.
FREE DOWNLOAD
Click HERE to download the rainbow confetti computer desktop organizers for free.