Fall has just arrived, but my husband and I have been thinking about what interesting projects we can work on during the upcoming longest winter ever. Since we're both working from home, we need activities that don't involve our jobs. For my husband, that means building a computer. For me, it means a variety of different things. Here's a list of my fall favorites that should help me to stay active during a long, isolating winter.
Entertainment
The Cadfael Chronicles
I listen to audiobooks every night to fall asleep, and my genre of choice is cozy mysteries. Wikipedia defines these mysteries as, "a subgenre of crime fiction in which sex and violence occur off stage, the detective is an amateur sleuth, and the crime and detection take place in a small, socially intimate community." Since finishing up all of the Miss Marple Mysteries from Agatha Christie, I turned to the Cadfael Chronicles. This series is set in 12th century England and follows a monk, Brother Cadfael, as he works to solve murders. If you're also a fan of cozy mysteries, you can find the first book in the series HERE.
The Repair Shop
If you like the Great British Bake Off, then you may like The Repair Shop. It follows expert craftspeople as they restore family heirlooms ranging from violins and gramophones to toy Daleks and stuffed pandas.
Animal Crossing
I've not been super active with this game lately, but since my husband has given me a few million bells, I've decided to rearrange some houses and add some more sidewalks. If you're not a gamer and/or you don't like games that give you anxiety, then this one's for you! It's relaxing, you can be creative (hello pixel art), and there's no time limits.
Food & Drink
Cold Brew Coffee
A few seasons ago I learned that my body (and mind) can no longer tolerate large amounts of caffeine. As a person who once drank espresso shots like water, this was a huge change for me. Thankfully, my local coffee shop shared with me the secret to great-tasting decaf coffee; Swiss water processing. I won't bore you with the details, except to say that it's the best tasting decaf I've ever tried. So now I'm back to creating cold brew coffee at home. Here's my recipe: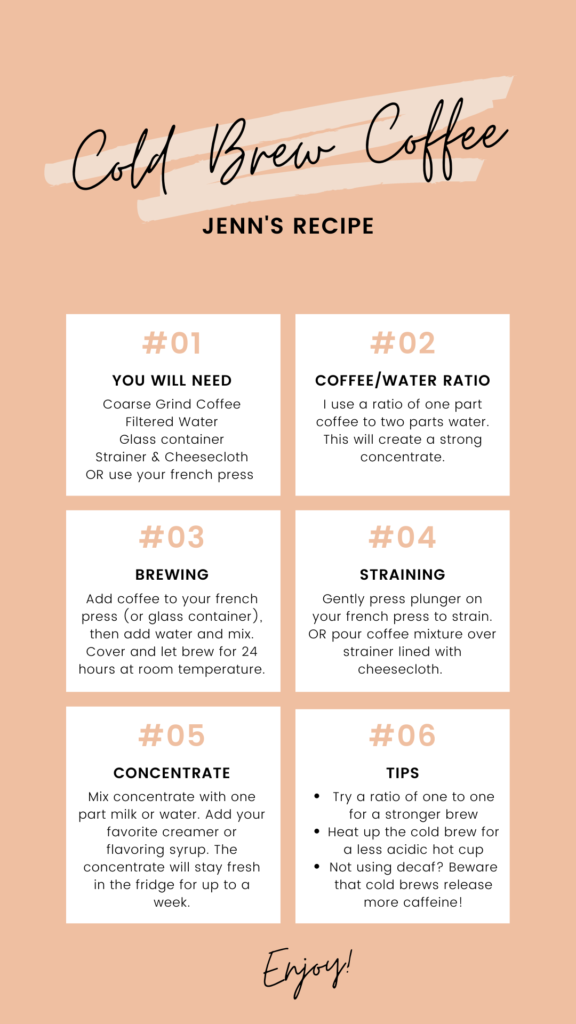 Dirty Chai Latte
If you order a dirty chai latte at your local coffee shop, you'll get a chai latte with an espresso shot mixed in. It's delicious, but I have my own decaf version that I like to make at home. I mix one part cold coffee concentrate (using the recipe above), one part chai concentrate (this one is my favorite), and two parts unsweetened vanilla soymilk. It's delicious.
Snacks Around the World
One of my favorite parts of traveling, whether it's out of the country or in state, is trying new food. So when the pandemic hit, and all of our travel plans were canceled, I knew I needed to find something to bring me that same type of joy. The result was a subscription to a service that delivers snacks from around the world right to your door. We've received two boxes so far, and my favorite snacks have been the lamb and mint potato crisps from Wales and the white chocolate cookies and cream clusters from Columbia. We signed up with Universal Yums, but there are TONS of services available, and we likely won't continue the service once we're able to travel again. Until that time, it's something fun to look forward to each month.
Activities
Treadmill
After years of saying I wanted one, I finally invested in a treadmill. Of course, fitting it into our small, apartment office has been…interesting, but it's already paying off. I love walking, and the treadmill allows me to do that no matter how terrible the weather. Walking as exercise isn't everyone's cup of tea, but it's my favorite. It has the added benefits of lifting my mood, increasing my energy, and giving me the time to watch all those Youtube videos I wouldn't normally bother watching.
Music
Despite how much I played and enjoyed music in the past, nowadays, it only seems to function as research for my blog posts. I plan to change that this year; my newly reformed guitar callouses are proof of my commitment. My instrument collection currently includes: guitar, ukulele, piano, ocarina, clarinet, soprano & alto recorder, tin whistle, and kalimba. So, if you have any music suggestions for those instruments, please share them in the comments!