As most teachers look to the start of a new year, I want to share some ideas for reviewing basic music concepts. I've written posts on five ways to review pitch and rhythm. Today, I'll be focusing on the concept of musical harmony.
SCOTLAND'S BURNING
This round is fantastic for reviewing harmony because it's short, has simple rhythms, and has accompanying movements. You can sing it, move to it, or even play it on recorders and Orff instruments. In addition to reviewing harmony, it would be a great piece for an informance, as it shows students ability to sing in harmony. You can read more ideas for this song HERE.
PARTNER SONG WITH THREE BLIND MICE & FRERE JACQUES
Three Blind Mice and Frére Jacques pair together beautifully as a partner song. You could also choose to use them separately to sing in a round. Read the full post HERE to see the fun, movement activity that goes with it.
WHO'LL BUY MY ROSES
I ran across this unfamiliar gem a year ago. I love that it has a variety of rhythms and is great for practicing ti. This song can be sung in canon, and while I don't know of any movements that traditionally go with it, students could easily create their own for this piece. You can read more about this song, along with tips for sequencing HERE.
MUSIC ALONE SHALL LIVE
This German folk song would be wonderful to pair with a grouping of pitched instruments. Orff instruments, bells, or Boomwhackers™ would work well. When it comes to playing instruments, colored notation can be a wonderful aide. You can read more about this song and ideas for teaching it HERE.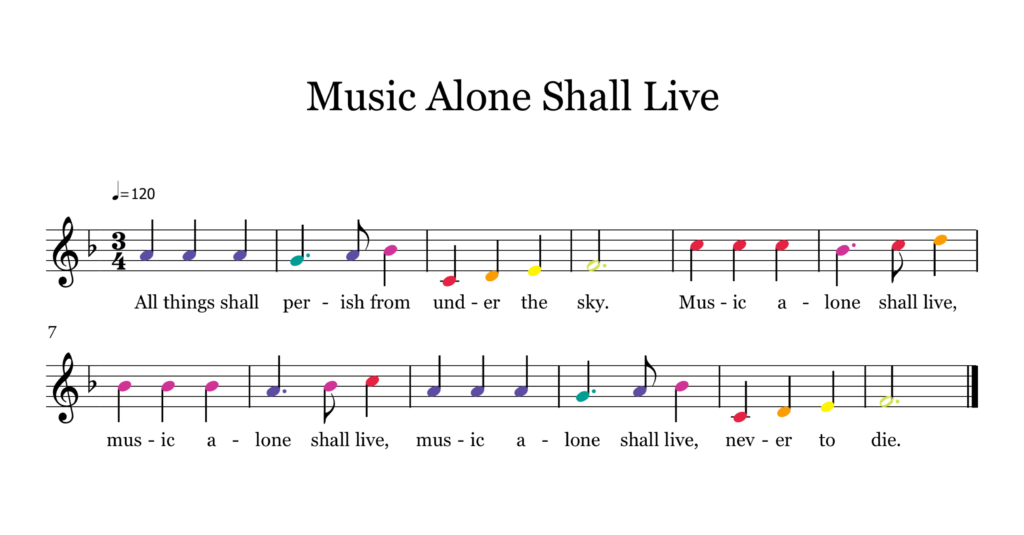 THE COFFEE CANON
I don't know of many children who aren't interested in coffee, and so this canon seems a perfect match for harmony review. It's also somewhat challenging to sing, making it great for upper elementary and middle school students. You can read more about the song and lesson ideas HERE.
NO PREP OPTION
Technically, this makes the sixth way to review harmony, but since it's a no prep option, I'm not counting it. My Basics of Harmony presentation is perfect for review. It provides real-life images, audio samples, play-along recordings, and videos so that students truly feel, hear, and see the concept. You can read details and see the full preview HERE.