I've heard countless teachers fret over how to review or teach basic music concepts to older students. I encountered a similar problem in my first few years of teaching. I desperately wanted a way to review all the music elements in a way that wasn't too "babyish", would give me an idea of what my students knew, AND didn't take up a whole lot of class time.
I settled on a slideshow that could do all of these things. As most music teachers' lessons do, it evolved a lot throughout the years. The end result was a slideshow that included a pre-test and post-test, a simplified definition of the element, the feel, sound, and sight of the music element, and the opposite of that element (if it existed). Eventually, I titled these slideshows The Basics Series, and developed one for every single music element. The following is how I structured The Basics of Beat. Hopefully, this framework will help you reach some of your older beginners!
Steady Beat Pre-Test
Pre-tests are a quick and easy way to see what your students know. For me, I focused the questions on the feel, sound, and sight of steady beat because this tied into the senses we would explore through beat later on. Here are a few example questions, which are in multiple-choice format:
What does steady beat sound like?

a barking dog or windshield wipers

What does steady beat look like?

a pendulum clock or a rainstorm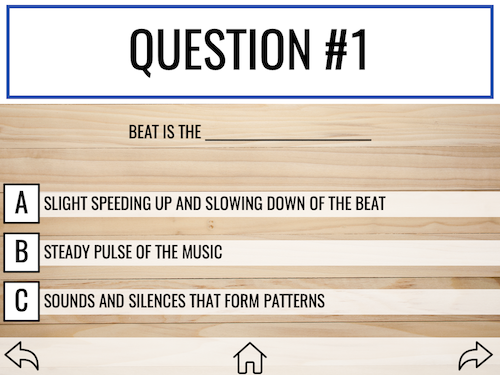 Simplified Definition of Beat
Before delving into the feel or sound of steady beat, I provided a super simplified definition. In this case, I said that "beat is the steady pulse of the music". You're probably already imagining the examples I'll give for the sights and sounds of a steady pulse, and you'd be right!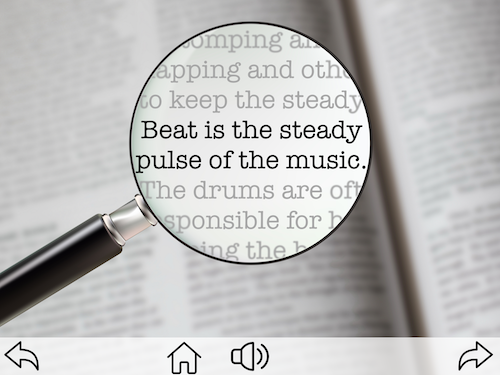 Steady Beat Sounds Like
In this section of my slideshow, I provided LOTS of real-world examples and images of steady beat. I always considered what my students would be familiar with or interested in, and made sure to include that. Here are some examples I used:
Jump Rope

I included the audio of someone jumping rope, and encouraged students to jump in time with the audio

Heartbeat (you saw this one coming!)

I included the audio of a heartbeat and showed students how to find their own

Windshield Wipers

I included an audio example, and we would discuss how wipers could go very fast or slow, but that they were always steady (precursor conversation to tempo)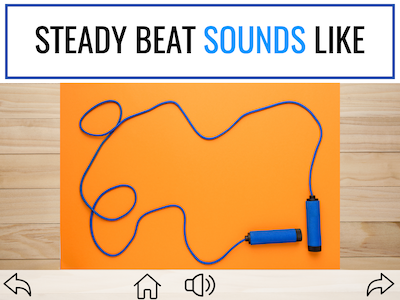 It was SUPER important for me to have a conversation with them and encourage them to share examples from their own lives, which made the whole process more meaningful and impactful.
Steady Beat Feels Like
Every section of the slideshow should be interactive, but this section should definitely get the kids moving, no matter their age! This section was ALL about the different ways you can make a steady beat. Here's how I achieved that:
Play-along recordings for stomping, clapping, snapping, tapping, and patting
Play-along recordings for rhythm instruments
Use found sounds too; all objects can be instruments
Explore vocal sounds to create steady beat
Beat tracks are an important element of this section. You can find tons of fun beat tracks on YouTube with a variety of tempo options. It's best to keep mixing it up; especially if you have limited access to instruments.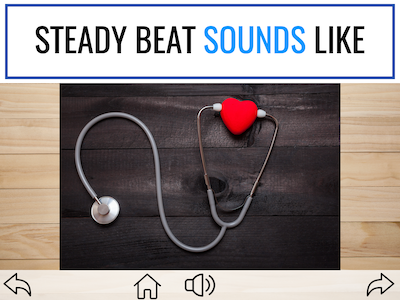 Steady Beat Looks Like
Again, I searched out real-world examples of steady beat. I added YouTube links of those examples to my slideshow. Here are a few I used:
Jump Rope Competitions

Not only are these amazing to watch, but it's fun to see students trying to imitate the routines.

Mechanical Metronome

This is a fun one because some students have never seen a mechanical metronome. It's even better if you can bring one in for them to try out!

Marching Band Shows

This is a good one for discussing how bands create shapes on the field at specific times in the music.
Steady Beat is NOT
This section is devoted to steady beat's musical opposite: no steady beat. Because this is toward the end of the slideshow, I only offer a few examples so that students can come up with more on their own. Here are the ones I use:
Fireworks
Thunderstorm
Crowded market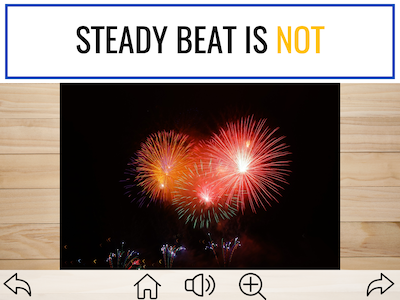 Extra Info Nuggets
It's truly amazing how we can breeze through a lesson with one class, and barely make it through the introduction in another. That's why I always included a few, additional slides that tied into the theme, but weren't necessary for understanding steady beat. Here are some examples:
Conducting Batons

I demonstrated how to conduct different patterns. Students always loved trying to conduct in 6 or 7.

Handel's Music for the Royal Fireworks

This was a very loose tie-in to the opposite of steady beat, fireworks. It was a fun way to chat about how the premier of the work in 1749 caused a traffic jam on the London Bridge 😂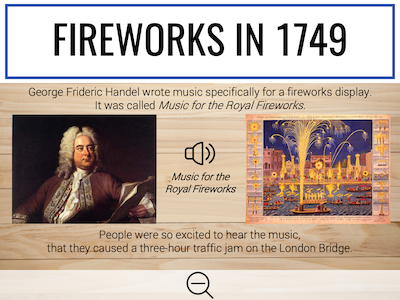 Steady Beat Post-Test
The questions were all repeats from the pre-test, and gave me a snapshot of what the students had learned. In both tests, I made sure students received immediate feedback. The tests are more about providing an overall snapshot, rather than any kind of in-depth assessment of student knowledge. Because of that, I tended to just have a raise-your-hand-or-shout-if-you-know-it style class assessment. It gave me a good idea of where to begin for my next lessons.
Don't Wanna DIY?
I get it. Time is precious, and you don't want to recreate the wheel for every lesson. So if you'd like to avoid all the work and have a slideshow that's ready to go, you can purchase the Basics of Beat HERE or by clicking the image below. Considering the days, weeks, and years I've spent creating and updating the slideshows, I can certainly appreciate not wanting to do the work all over again!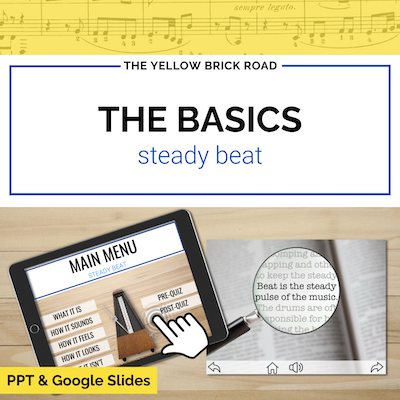 If you suspect or know for certain that you want these slideshows for every element, you can save money by purchasing the bundle, which includes all nine slideshows along with example lesson plans for each. You can get the Basics Bundle HERE.