Doggie, Doggie is a fun guessing game that you can use with younger students to practice pitch (mi, so, la) or rhythm (quarter and barred eighth notes). You could also use it to sneakily test your students' pitch-matching skills.
GUESSING GAME
I think this game would work well with 1st grade students or younger, depending on your unique classroom situation. Here's how you play the game:
Students sit in a circle, with one student in the middle (the doggie)
"The doggie" keeps his eyes closed as the class passes around a bone

check out the dog toy aisle for a bone you can use; one without a squeaker, because we all know kids couldn't resist that!

After "the dog" sings "Who stole the bone?", the student with the bone sings the last line by themselves.
"The dog" then has three chances to guess who has their bone.
If they guess correctly, they get to choose the next "dog". If they guess incorrectly, they remain the "dog" for a second turn.
The video below is a great example of how to play the game.
RHYTHM PRACTICE: QUARTER AND BARRED EIGHTH NOTES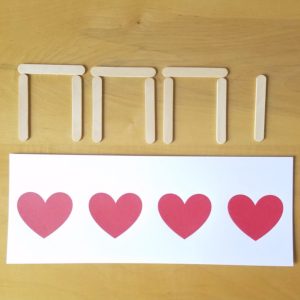 After you've played the game, students can start diving more deeply into the rhythms they sang. You can see from the picture that I used a simple beat chart and mini popsicle sticks as manipulatives to write the rhythm of the first line of the song, "Doggie, doggie, where's your bone?"
To make the beat chart, I used PowerPoint, though you could easily use Keynote or Google Slides. I went into File>page setup>letter paper>landscape orientation. I used the Shapes function to create a heart. Then, I used shape formatting to fill it in red. I copied and pasted it to create four and spaced them across the top of my page. To create equal spacing and alignment, I selected all four hearts, chose Arrange>align>align top. Then, Arrange>align>distribute horizontally. Then, I grouped them together by selecting Arrange>group. I copied and pasted this group to create another beat chart below it. Finally, I printed it and cut down the center to create two beat charts.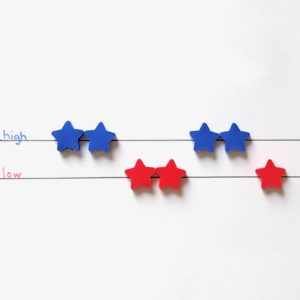 PITCH PRACTICE: MI AND SO
Just like rhythms, you can use manipulatives to have students write out the pitches in the song. Sadly, I didn't have any tiny dog or bone erasers, so I just used what I had on hand. Then, I labeled each staff line using the same color as the manipulatives.
ASSESSMENT
What I love about songs like these are that students can play a game while you assess them. There's no pressure, pencil, or paper for your students. It's just them playing a game, while you listen to each child's solo and mark down their score according to your rubric.
Speaking of assessment, I've seen a lot of conversations in Facebook groups, in which teachers discuss how their methods of assessment are different than those of other subject areas. I've also seen a lot of discussions in which teachers struggle to get administrators to understand these methods. My advice in these circumstances, is to do your best to educate your administrator. I realize this won't work in every situation, but it's certainly worth a try.
So what does it look like to "educate your administrator"? For me, it meant physically involving them in my lessons when they came by to observe. Not only did I genuinely want them to learn something new (recorder fingerings), but my eagerness in sharing music made me feel less pressure over the formal observations. In other words, I could focus more on the fact that I was teaching my administrator than being observed by them. More importantly, I didn't shy away from using music jargon in my post-observations. I didn't want them to just see kids singing with a circle game and leave it at that. I wanted them to know why we played the circle game and how it taught a specific music concept. Ultimately, they won't know what I'm thinking or understand my reasoning unless I tell them. And if I didn't tell them, who would?