In October of 2014, Marie Kondo's The Life-Changing Magic of Tidying Up was published, and a sudden frenzy for de-cluttering was born. Though I never read the book, it was referenced in TV shows and other media so many times that it was impossible to ignore. For some teachers, this de-cluttering frenzy may have brought up feelings of shame over the stacks of unused materials taking up precious space in their classrooms. For others, it may have inspired guilt that they don't have their classroom organized the way that they'd like.
No matter where you fit into this scenario, I think it's important to maintain reasonable expectations. Music teachers are often responsible for hundreds of items, ranging from simple rhythm sticks to instruments that are worth hundreds and even thousands of dollars. And that doesn't include all of the other materials, such as songbooks, pencils, staplers, and manipulatives. Naturally, you want to see these items cared for and organized properly, but you're only one person. Try to maintain reasonable expectations of yourself, do what you can, and try to find a method that works for you.

KEEP IT OR TOSS IT
For me, I like to have a method I can use year after year. A huge portion of my organization process goes to deciding what to keep and what to let go. I make these decisions before I do anything else. This saves me time in the long-run, as I won't waste time organizing and storing items that I'll never use again. I created this Tough Love Toss Flowchart, which mimics how I approach tidying up. For some, my method may be too rigid. For others, it might be the opposite. Either way, it's a starting point for you to create your own standards for choosing what items to keep, donate, or toss. You can download this flowchart for free HERE.
LABELS & INVENTORY LISTS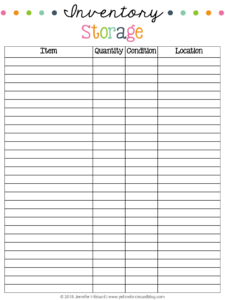 Now that you've de-cluttered, it's time to start labeling and creating an inventory list. This will serve two purposes. First, labeling your items ensures that, if items do sprout legs and wander off, at least everyone will know where they rightfully belong. Second, an inventory list will help you keep track of items that are too numerous or cumbersome to label.
Once you've slapped a label on everything that isn't bolted down, you can start the process of listing everything that belongs in your room (including the items that are labeled). It's helpful to keep a digital copy of your list so that you can edit it from year to year, and it'll never get lost among all the papers you store throughout the summer. I created an inventory list for my Music Teacher Planners that I'd like to share with you. You have the option of printing it out and filling it in by hand or editing it digitally and keeping it stored in your computer. You can download the inventory lists for free HERE. You can also see everything that's included in my Music Teacher Planners by visiting my Shop page.
Inventory lists can also be helpful with budgeting. By labeling the condition of all of your materials each year, you can know ahead of time when you may need replacements and work it into your budget or grant plans.
Lastly, here are some ideas/tips for the end of the year tidying and organization:
If you're able, spread your cleaning/organizing time across several days, rather than attempting to do it all in one short burst. That way you can take your time, be methodical, and not be tempted to cut corners. Just bask in your awesome work tunes and enjoy having more than 20 minutes for lunch.
Chat with your custodians about what to do with your trash. Not only will they appreciate the warning, but they may even roll in a few extra garbage buckets for you to use.
While you're chatting with the custodians about the trash, ask them if you can borrow some of their cleaning supplies. You'll be able to dust off materials before packing them away. This will save you from inhaling a thousand dust bunnies next year when you open your storage cabinets.
Check out the teacher's workroom to see if someone else's trash could be your treasure. Another teacher might just be throwing away hundreds of bottlecaps that you could use as melodic or rhythmic manipulatives.
If the papers you find aren't important enough to be filed, then they're not important enough to keep. So, if you don't already have a file for those sweet notes you get from students, now's the time to make one!