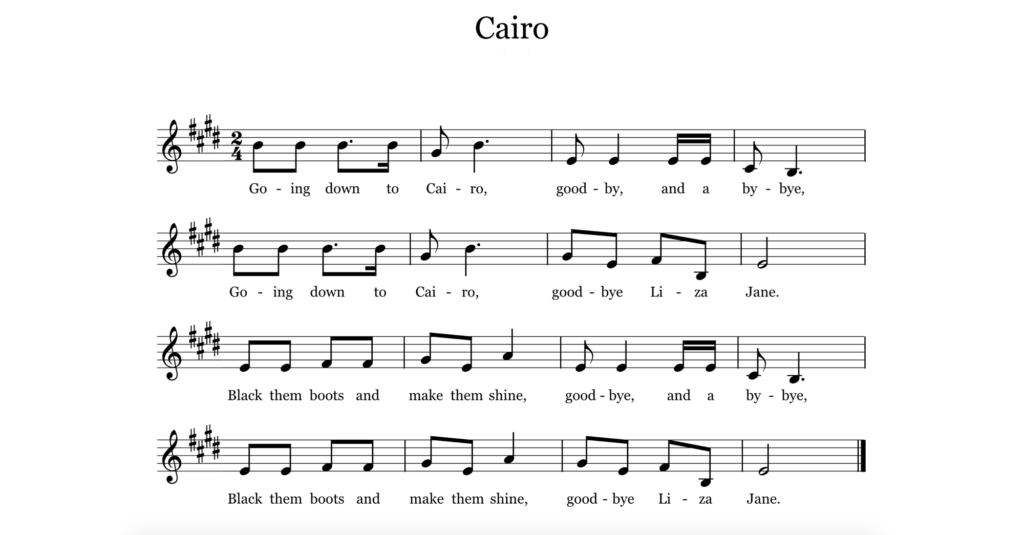 Going Down to Cairo has an addictive melody and fast beat, which makes it work well in the elementary music classroom. You can use this song to practice steady beat, half note, and folk dance movements. You can find a wonderful recording of this song by Jill Trinka HERE. Upon first hearing, your students may ask about Cairo and where it is in the world. Ella Jenkins does a fabulous job explaining the difference between Cairo Illinois and Cairo Egypt with this informative song. It fits perfectly within this lesson, but could also be used on its own to explain how areas can have the same name (with the same spelling), but not be in the same place.
HALF NOTE
This song works well for teaching or practicing half note. Both of the phrases in the song end with a half note, creating a natural emphasis on the rhythm. Also, the half note has the same word "Jane" each time, making it easier for students to identify.
The section "Goodbye Liza Jane" works well for rhythmic identification. You can try projecting the notation on the board, making sure to cover up only those rhythms. Then, ask students to decode them.
You could also create lyric strips and pass them out to your students. Then, ask them to arrange them in the right order. And finally ask them to write out the rhythm of "goodbye Liza Jane" using manipulatives.
FOLK DANCE
There are several versions of dances for this song. So, I think you should feel free to create your own dance that fits the needs of your students and your unique classroom situation. I've listed a few ideas of my own below, as well as other sources:
For kinder and first grade, you can stick to simple steady beat movements. For example, marching to be beat during the phrase "Going down to Cairo…" Then tapping the tops of their shoes on "Black them boots…". If you choose to use this song as an informance piece, you can have them wave during the "by-bye" sections.
With second and third grade, you can try the movements that Dr. Rob Amchin shows in this video. If you haven't already subscribed to his channel, I highly suggest that you do!
For an added challenge, have students perform a right and left grand during the first verse. Here's a video showing students performing this move. Then, have them march to the center of the circle during "Black them boots…" and have them march back out while waving during "goodbye and a by-bye."
To finish off your lesson on movement, have students break into groups and create their own folk dance. You can stipulate that they use at least one folk dance movement they've learned about, such as the right and left grand.