Hob, Shoe, Hob is a versatile song that you can use to teach mi, so, and la, and quarter rests. It would also be easy to incorporate rhythm instruments into this song with your lower elementary music classes using my free printable.
A LITTLE BACKGROUND ON HOB, SHOE, HOB
Hob, Shoe, Hob doesn't require a whole lot of context, but I'm sure that many students would be curious about the process of shoeing horses. And thanks to YouTube, you can show them exactly how that process works. It's also important to explain to students that horses' hooves are made out of keratin, the same stuff as our nails and hair. So the shoeing process is not painful for them.
This video explains why domestic horses wear shoes, and is geared toward the lower elementary crowd.
This video gives a brief overview of horses, along with a quick explanation of how quickly their hooves grow.
PLAY FARRIER WITH A FREE PRINTABLE FOR HOB, SHOE, HOB
After your students have learned a bit about horses and their shoes, pass out one rhythm stick to each student.

They can also do this activity just using their fingers, but the sticks make it more fun!

Have them sit in a circle and explain that they'll be pretending to be farriers, and will be using their rhythm sticks as hammers to hammer out some new rhythms.
Pass out the printable and have the students tap the horseshoes to the rhythm of the song.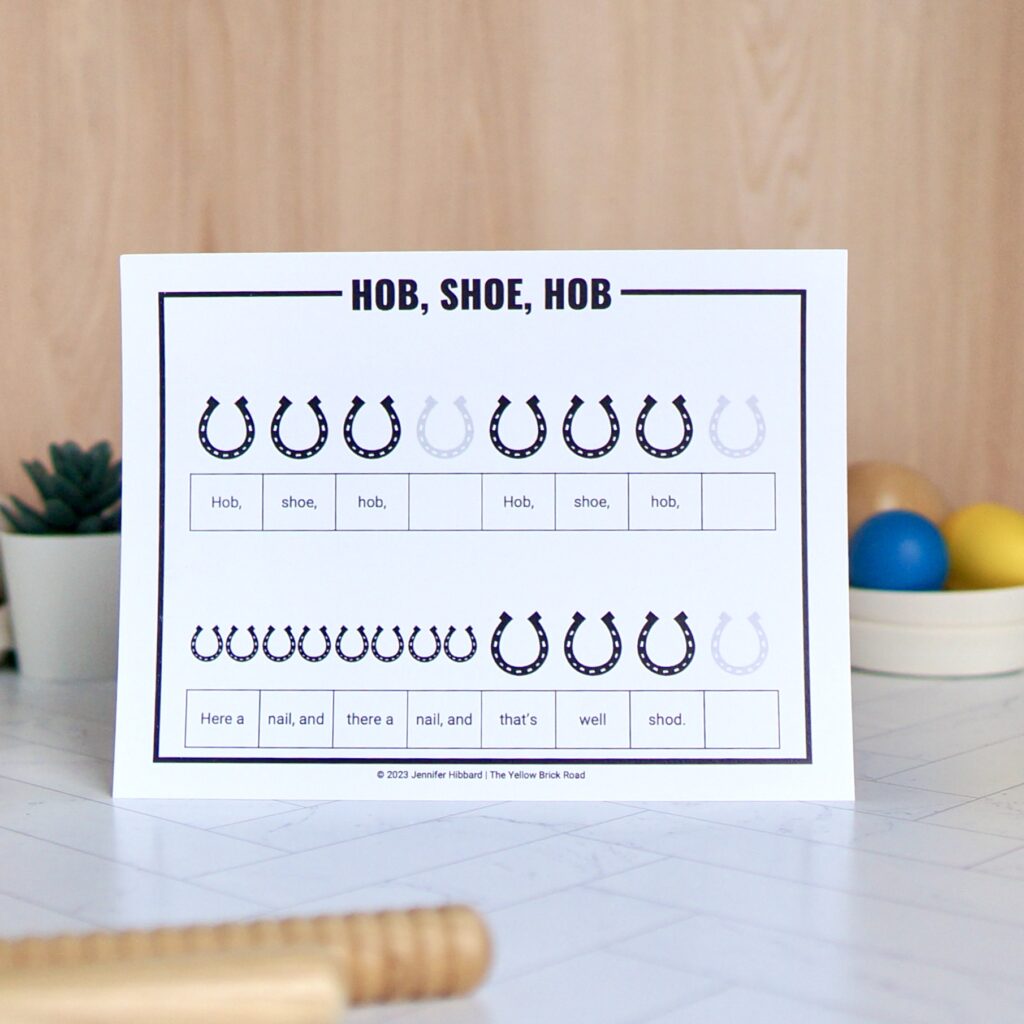 HOB, SHOE, HOB NOTATION IN COLOR
If you've followed my blog for any length of time, then you know I'm a fan of colored notation. I like it not just for playing on Boomwhackers™, but also because it makes notation more accessible for young students who are just starting out and aren't yet fluent in the line and space notes.
ORFF INSTRUMENTS & PLAYING BY EAR
Once your students have "played farrier" and can sing the song independently, it's time to add in some mallet instruments! One way to strengthen your students' musicality is giving them the opportunity to play by ear. You can do that in a few ways:
Remove the bars that won't be played and have students work in pairs to figure out the melody on their own

To avoid too much noise, have students play the bars using the mallet handles, then switch when they've figured out the whole melody.

Create print-outs of the song in two-measure parts. Have students pair up and play each part, working toward placing the parts in the correct order; sort of like a musical puzzle.
Remove the A bar, but keep the G and E bars (or whatever bars are needed for the key you choose). Then, have students work in pairs to figure out which note is missing. This is also helpful if you're introducing la in Solfége!