Old Brass Wagon is a great song for square dancing and practicing barred sixteenth notes. I taught this every year with my second graders, though it could easily be used with older grades or younger grades with a few modifications.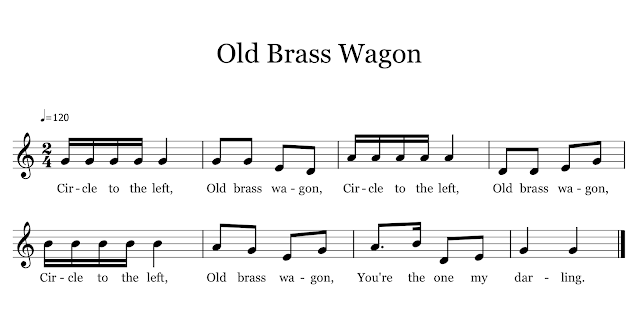 SQUARE DANCE
I've seen multiple variations of lyrics to this song, and I believe they all can serve a purpose depending on your needs. Here are just a few of the different verses you can try with your classes. Some I've seen in music textbooks and on the internet, and others I've just made up:
Circle to the right…
Promenade right…
Clap your hands…
Tap your foot…
Do-si-do…
Everybody in…
Everybody out…
Allemande left…
Swing oh swing…
Right and left grand…
LIST OF DANCE TERMS
TIPS FOR APPROACHING DANCE IN ELEMENTARY MUSIC
I once had a student who refused to dance in class. After talking with him privately, I discovered that he thought he was a "bad dancer", and so naturally, he didn't want to do it. I explained that what we were really doing was "moving to the beat". The only skill required was being able to keep a steady beat, which he could do very well! That resolved the issue and he participated fully from that moment forward.However, I was more careful with my words after that experience. I would use the phrase "moving to the beat" or simply not define it at all. If you are a member of
The Music Crew Collaborative
on Facebook, you can read
this thread
for amazing tips on doing folk dance with students of all ages. Here's a snippet of what my friend Elizabeth from Organized Chaos said about dancing,
"I just teach it as part of the song- just like if I were adding an ostinato accompaniment or teaching the melody with singing or a melodic instrument etc- it's all part of the song." 
RHYTHM
This song is great for practicing barred sixteenths. To emphasize the rhythm further, you could have students pat on the sixteenth notes, clap on quarters, and stomp on eighths. Then, when you delve into sixteenths further, students will have experience with what sixteenth notes sound and feel like (literally).
I hope these ideas give you some inspiration to dance this year. If you decide to try out some of these ideas, I'd love to hear about your experience in the comments section below!