The season of sickness is here. All around me I'm hearing stories about the flu, ear infections, and stomach bugs. Being sick is bad enough, but it's made worse with the thought of writing out sub plans. In a perfect world, we'd have sub tubs full of matching games and fun centers ready to go. However, sometimes we just need a list of go-to ideas for when our sub tubs aren't ready. So, here are my top two easy sub plans for music teachers.
NO PREP ACTIVITIES
When a substitute has zero experience with music, you need a plan where they can literally press play and go. I created the No Prep Activities for Elementary Music for exactly this situation.
This set contains links to over 60 video links in a variety of categories, such as pitch, rhythm, band, choir, singalongs, and more. You can choose to play the video using Safeshare, ViewPure, or YouTube. It also has accompanying worksheets for each of the videos. Once you've downloaded the set, you simply need to print the worksheets, and you're ready to go.
As with any video, you'll want to preview it first to make sure it's suitable for your unique classroom situation. The length of the videos is indicated on each slide, so it's easy to know which ones will work for the length of your class periods. Best of all, you can easily review each video from the comfort of your bed!
To see exactly how easy this sub plan is, you can download this sampler for free. You'll receive a total of six video links; three for K-4 and three for 5-12, along with three accompanying worksheets. Click HERE or on the image below to download your free sampler.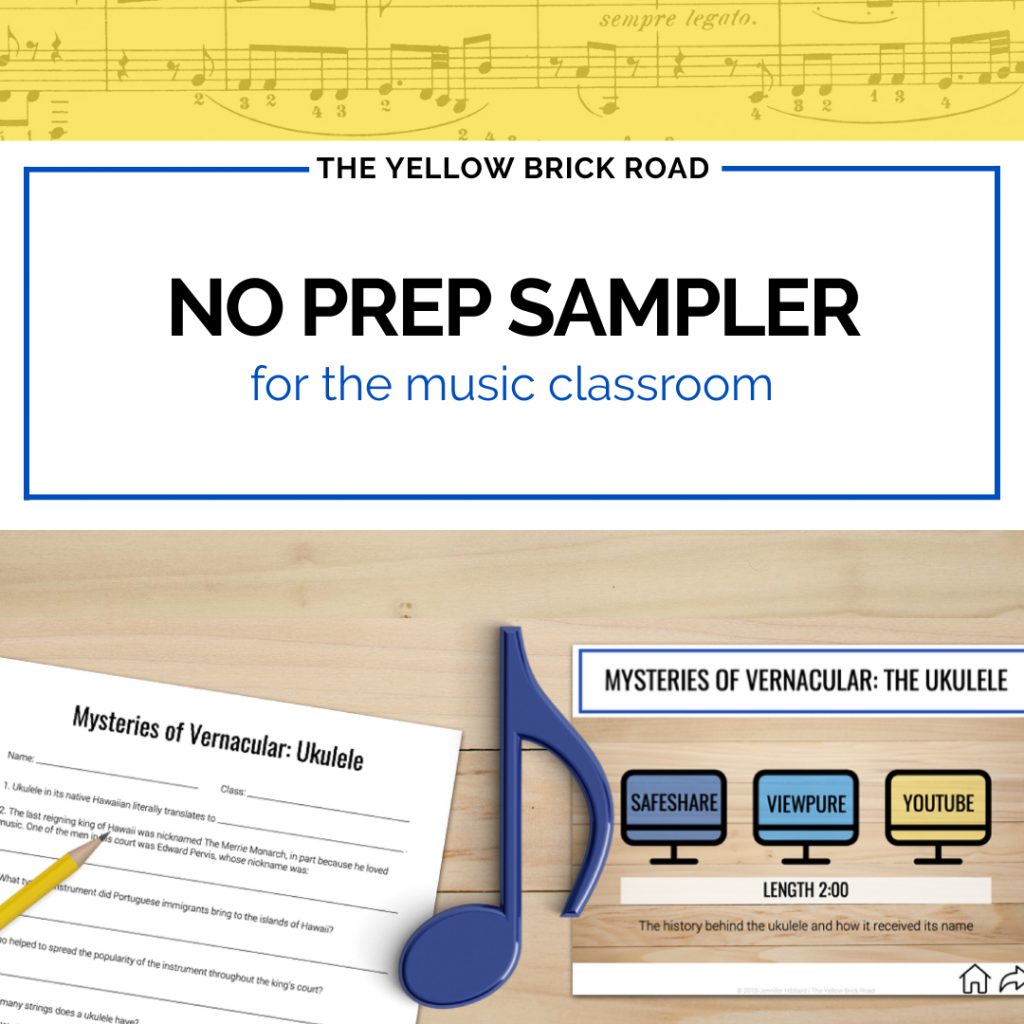 SUPER QUIET UN-INTERRUPTED LISTENING TIME
SQUILT is a great way to combine a listening lesson with purposeful movement. Here's how:
Start by downloading these free SQUILT worksheets from my store, then print/copy enough for your students.
Choose the music you want your students to hear. Personally, I would choose a piece that has contrasting elements, such as Mozart's Eine Kleine Nachtmusik. Contrast is important in listening lessons as it gives students more to write about, but also gives non-music subs more opportunities to contribute to the lesson. They are more likely to hear that a piece is both soft and loud, rather than just soft.
The lesson should begin with the students moving to the music as they hear it for the first time.
Once students have moved to the piece, and hopefully are a little worn out, then it's time for them to listen to it again, while filling out their SQUILT worksheets.