I have a love/hate relationship with lesson planning. I love planning lessons when it serves a purpose, such as helping me to organize my thoughts or to create a logical and seamless order to classroom activities. I don't love lesson planning when the plans are required to fit into a template created by someone who is more concerned with educational buzzwords than research-based music education pedagogy. With this in mind, allow me to step off my soapbox for a moment to tell you about my favorite resource for lesson planning.
I can't remember the first time I heard that name, but it was love-at-first-sight. Planbook met all of my needs and exceeded my expectations. The features of Planbook are seemingly endless, so instead of boring you with a laundry list of pros, I'm going to share the top five reasons I love it for the elementary music classroom (or any classroom for that matter).
1. It's great for observations.
If I were indicted and had to answer questions about my habits of planning lessons (it could happen), I would have to plead the fifth. Because if I'd already taught a lesson every year prior, and if I knew that lesson like the back of my hand, and if it was always successful, you can bet that I had next to nothing written about it in my planbook. So, when an administrator walked in for an unannounced observation, wanting to see a written lesson plan, I couldn't exactly hand them a sticky note with two words written on it. "Bee, Bee" isn't nearly as meaningful as it sounds through the eyes of an outsider. 
Planbook 
solved that problem for me because I could recycle successful lessons from the previous year with the simple click of a button. I never had to start over from scratch, and I could easily make minor adjustments every year. So if an administrator walked in to observe a tried and true lesson, I had the paperwork to back it up.
2. I can work from anywhere at anytime.
I didn't have to worry about whether or not I'd brought home my paper planner (which I still used for many other purposes). I just needed to have a computer and internet access, and I could log in to my lessons and start planning.
3. It's easy to reference standards.
You can input standards into your plans using a convenient drop-down menu (both state and national standards are represented).
4. I type faster than I write.
Beautiful handwriting was a gift bestowed upon my sister, who I'm convinced should turn her handwriting into a font. My handwriting is horrible, and I'll use any excuse I can to type instead of write. Plus, I can type much faster, which means spending less time planning lessons and more time playing Zelda Skyward Sword, or some other equally immature past-time of mine.
5. Easy Printing
It's easy to print out your lessons in any format you choose (weekly is my preference) to keep them on your desk as a reference throughout the day. That way, if you need to make notes, you can scribble them quickly on the paper, and then record them in the software at the end of the day.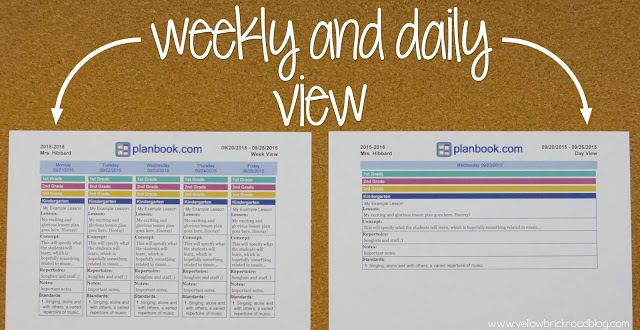 There's a lot more to love about
Planbook
, so be sure to check it out if you enjoy online lesson planning. You can try it out for free for the first month, and the yearly fee is well worth the money should you choose to subscribe. By the way, I'm not being compensated by Planbook. I just sincerely love the software as a resource for planning lessons.Planbook is an amazing tool to use in conjunction with paper planners. You can find my ultimate Music Teacher Planner
HERE
. It's editable and made specifically for music teachers. Plus, it's updated every single year, which means you only have to purchase it once!
I'm guessing you have your own favorite resource for lesson planning, and I'd love to hear about it! You can follow the directions below to link up or simply comment to share your favorite resource.